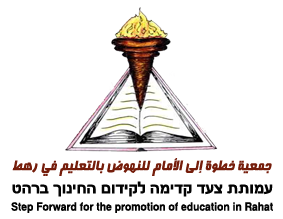 Goals of the Association:
The Associationís objectives for advancement of society in Rahat include goals for children, youth and women:
Childrenís activities are intended to reinforce the childrenís strengths and contribute to their intellectual, emotional and social development.

Youth activities strive to advance and develop the youth as a dominant, central element in the community so that they will be involved in all levels of the society in which they live.

Womenís empowerment activitiesí goal is the advancement of the Bedouin womanís status in Rahat as seen by herself and by others in the community; to encourage women to initiate and become partner in all that goes on in the home and the society; and to develop economic and social resources so as to be more independent.